Colin Purdie
Profile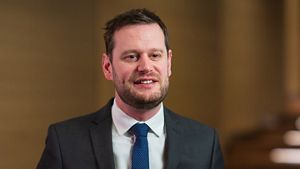 Job title
Chief Investment Officer, Liquid Markets
Contact details
Work location
London, United Kingdom
Joined Aviva Investors
2010
Joined The Industry
2002
Biography
Main responsibilities
Colin leads the Credit team across London, Singapore, Toronto, Chicago and Paris. He is also a Responsible Investment Officer leading the efforts to ensure that ESG (environmental, social and governance) factors are integrated into all aspects of the credit process and that we actively engage with corporates on ESG related matters.
Experience and qualifications
Prior to joining Aviva Investors, Colin worked at Aegon Asset Management as a fund manager and banking analyst. He began his career at the Financial Services Authority in 2002. Colin holds an LLB (Hons) from the University of Edinburgh. He also has the Certificate in Securities and Financial Derivatives from the Securities Institute and is a CFA® charterholder.